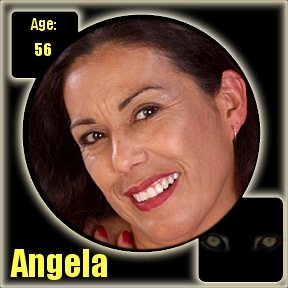 The last person you were expecting to come in to apply for a job as your secretary was a 56-year-old woman like me...but there I was, waiting in your office, resume in hand. I could feel your eyes travel along my aged body, a smirk crawling across your lips as you came to sense my desperation for this position. You were thinking you'd get a hot young girl, but an older broad like me could work out even better; after all, I'm no longer as young as I used to be, and definitely more eager to prove that I am still worthy of your attention.

You can tell by the tight suits I wear to work, pushing my big, sagging tits together and framing my thick hips and ass, that I am willing to be more than just your secretary. If you were to ask me, I'd have to admit how many times I'd sat in my cubicle, hand against my full bush in my panties, dreaming about you bending me over your desk and fucking my horny older pussy. Sometimes, I even come to work without panties on and sit with my legs slightly spread, dripping wet in the secret hope that you might catch a glimpse of my glistening hairy cunt and come take advantage of me. It's all because of that first day; you told me that I'd have to work extra hard to prove that I am as up to speed as some of your younger employees, and I vowed to myself that I would do just that, no matter WHAT it takes.

I shouldn't be taking filthy mature phone sex calls from work, but my mature secretary fantasies make it impossible for me to keep my mind on anything but sex. I'm hoping that the next time the phone rings, it's going be you on the other end, hard cock in hand, calling me into your office to see what else a mature slut like me can do for you.